What Is DCT Trading?
DCT Trading stands for Dreams Come True run by con man Elijah Oyefesso and is nothing more than a title to give the impression that this is a genuine and legitatimate cmopany.
Is DCT Trading a Real Company?
DCT Trading is NOT a company or business of any type.

DCT Trading is nothing more than an alternative name used by ELijah Oyefeso uses to convince people that this is some sort of legitiamte business.

DCT did claim to have a parent company back in 2016 during the peak of this scam (GAB Fossard Trading LTD). However, whilst this was created in October 2015, it was dissolved on 8th August 2017. Gab Fossard was nothing more than a legal entity (on paper) to set contracts against, with no annual returns ever set against it. The Director (Tiyabatu Abbey) was found to live at the same London flat as Elijah Oyefesso. In February 2019, DCT Trading Group was registered on Companies House but again it is just a ghost company (see details further down this page.)
The address was given as Kemp House, London but on closer inspection it was just a forwarding address to another trading scammer (Siva).
The one year period between 2015-2016 saw the peak of the Elijah Oyefeso Binary Signal Trading scam. He rented office space in London at 160 Fortis House, London Road, London and hired tele-sales/marketing people to sell his scam. The scam was promoted on Channel 4's RIch Kids Go Shopping. It wasn't until after broadcasting that the producer Twenty Twenty Teleevsion relaise dthey had just promoted a scam. Asa a result, hundreds of young UK teens and adults signed up to the scam thinking it was a genuine investment oportunity.
The office was run by David Whyte and Nick Ade who were presented as 'Directors' but had no legal standing as that role.
DCT Trading 'Office' Closes Overnight
In late 2016, details of the scam were revealed and in Ausgut 2016. Due to figting among the 2 senior 'Directors' and staff never being paid the office closed overnight afer 10 clients had their accounts wiped. See our 'DCT wipes client accounts page'.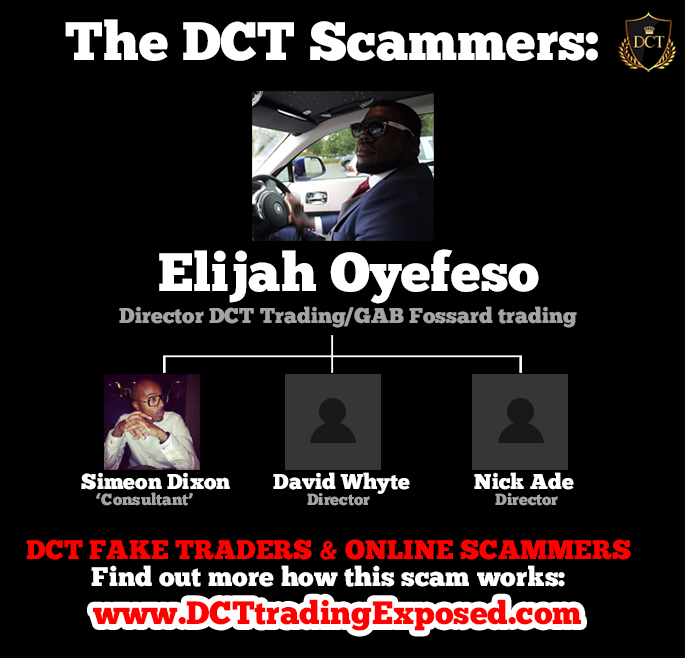 Please be aware that from February 2019, a genuine cmopany DCT Trading Ltd was established selling farm products. This has no connection with the article above.
DCT TRADING GROUP LTD Opens with another fake forwarding address
In February 2019, a new company DCT Trading Group LTD was established. Oddly listed as selling motor vehicle parts, mobile phones, jewellery and manufacturing wiring devices. On closer investigation, the company is set up by Oladimeji Junior Oyefeso (Elijah). The address for this company is 20-22 Wenlock Road, London – again nothing more than just a forwarding address. The service costs just £49.99 year to set up: